Dr. Alarik Arenander
Leading authority on the upgrading executive brain function to capture the essence of brain adaptability and plasticity, in order to promote maximum coherence and support growth to the highest levels of leadership performance.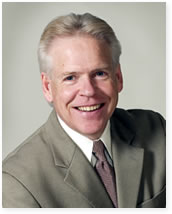 Dr. Alarik Arenander, a UCLA-trained neuroscientist, Director of Iowa's Brain Research Institute, and President of The Leader's Brain, will share with you the remarkable breakthrough science and technology that can drive optimal leadership development.
Dr. Arenander is Director of the Brain Research Institute and has conducted pioneering research over the last 38 years in the development of the brain and human po­tential at research institutions in the U.S. and Europe. Dr. Arenander brings a unique background of extensive research in the areas of brain function and human potential to provide a clear and systematic map supported by validating data that makes this effective program so valuable for enhancing leadership performance for business sustainability.
Dr. Alarik Arenander has presented for nearly four decades at institutions and businesses in the United States, Europe, Asia and Africa. From 2006 to 2008, Dr. Arenander has presented to 1000s of individuals in many locations including Amsterdam, Berlin, Boston, Bremen, Brussels, Capetown, Chicago, Copenhagen, DesMoines, Hannover, Hartford, Hilo, Johannesburg, Luxembourg, Malmø, Munich, New York, Palm Springs, Portland, Providence, San Diego, Seattle, Stockholm, Utrecht, and Washington D.C.
Dr. Arenander has presented research-based programs enhancing human potential and research-based strategies to impact the viability of business to the governments of the U.S., Trinidad, Netherlands, and South Africa, as well as to corporations including Ford, General Motors, Daimler-Chrysler, LeaderSource, Danmark's Center for Leadership, Luxembourg Chamber of Commerce, etc.
Dr. Arenander received his doctorate from UCLA and returned to UCLA to be on the faculty before founding Iowa's Brain Research Institute. Over the years has conducted research at Penn State University at Hershey, MERU in Seelisberg, Switzerland, University of Wisconsin at Madison, and Maharishi University of Management.
His lifelong research focus is brain development and human potential, including both basic and applied research in the relationship of brain and consciousness and the role of the environment and experience on the development of human potential and well-being.
Dr. Arenander has received degrees in Molecular Biology, Cellular Biology, and Neuroscience pursuing a remarkable array of experimental techniques related to brain development, ranging from the genetic, to molecular, cellular and whole brain, to psychological and human stage development.
Director of Research for the Center for Leadership Performance, part of John Hagelin's Institute of Science Technology and Public Policy at Maharishi University of Management. Dr. Arenander is also Co-Director of Research for the David Lynch Foundation
Since 2001, Dr. Arenander has been President of The Leader's Brain, offering a research-based, reliable program of accelerating the growth of leadership competencies. President of EbrainMatrix (www.ebrainmatrix.org), specializing in programs for health, education, business and government.
Contact us to find out how: leader@theleadersbrain.org