Dr. Alarik Arenander has provided clear, motivating, impactful, and informative sessions for conferences, businesses, associations, and institutions for over 40 years.
See what others say about the quality, content and dynamics of Dr. Arenander's training.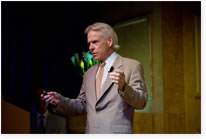 PREPARED
"He is always well-prepared with carefully constructed presentations illumined, often, by memorable graphics."
—Robert A.G. Monks Founder,
Lens Governance Advisors
"Your extensive research is overwhelming. You not only know the information, but it's apparent to the audience that you really enjoy your profession."
—Jim Bagnola
Senior Partner, The Leadership Group
PRACTICAL
"We expect to harvest the benefits of improved brain performance and overall health within our company."
—Michael Lackman
President, CIT Solutions, Inc.
"Alarik is a brilliant intellect and a dynamic force on the podium who deeply understands the field and who deals with some of the deepest issues in the field in a straight forward and lucid manner. His talks are clear, insightful and chock full of information that the layman and professional alike will be able to use in understanding their personal physiological, and intellectual development."
—Montague Guild
CEO, Guild Investment Management, Inc.
"He delivers with passion and knowledge the information that layman and professional alike will be able to use in understanding their personal, physiological and intellectual development."
—Steven Littlefield
CEO, Absolute results
IMPACTFUL
"He simply helps people 'get it,' and they come away with more than the cutting edge perspectives for which he has become known."
—Walter Reifslager III
CEO, World Pavilions
"Alarik has a long history of charming audiences with what can be daunting and dense scientific research and findings. He makes it enjoyable and fun – but doesn't scrimp on the weight or value of the subject."
—Robert Brown
Brightwood Advisors;
Past CEO of A Ziff-Davis Technology Company
"Audiences are captivated as they learn new ideas that have immediate impact on their lives and the lives of those they love."
—Jonathan Gordon
President, Jonathan Gordon & Associates, Inc.
ENTERTAINING
"His presentations are not only informative; they are lively, moving and edifying…intimate and charming."
—Richard Bialosky, AIA
"You captured the attention of the physicians as well as the lay people in the audience."
—Mahendr Kochar
Executive Director, MCWAH
"Alarik held a very sophisticated Hollywood audience spellbound for over an hour, and then they asked for more."
—Nancy Cooke DeHerrera
Author
INSPRIRATIONAL
"He brings a rare mixture of brain science, art and wit to a difficult and vital topic."
—Keith Erling Thompson
President, Public Broadcasting Marketing, Inc.
"Your enthusiasm and command of the topic has everyone enthralled."
—Michael Lackman
President, CIT Solutions, Inc.
PROFESSIONAL
"It is indeed rare to find someone with your brilliant credentials coupled with such charm and charisma."
—Ellen Wickersham
President, EW Resources
"Alarik is a dynamic speaker, who interweaves a wide-ranging body of data and concepts to create a clear and concise understanding of issues on the cutting edge of research in the field."
—Peter L. Salk, M.D.
Biomedical Researcher
INTEGRATING
"Dr. Arenander is a leading authority and dynamic speaker on topics including the neurophysiology of consciousness, the mind-brain-body connection, and the development of consciousness for the promotion of health and success in life."
—Gary Kaplan, M.D.
Associate Professor of Neurology,
NYU School of Medicine
"The audience was riveted by the breath and depth of your information. It was a terrific lecture and a high point to conclude our conference. Thanks!"
—Julie Fidler Dixon, M.S., CRC, CCM
Executive Director, On-With-Life; President BIA-Iowa
UNIQUE EXPERIENCE
"His talks are nothing short of mind-bending…clearly he is on the forefront of knowledge in his field."
—Jonathan Gordon
President, Jonathan Gordon Associates, Inc.
"He is a visionary scientist who can effortlessly weave together the insights of ancient wisdom with the precision and practicality of modern science."
—Rogers Badgett
Owner, The Raj Health Center
"Alarik has an amazing, unique ability to not only explain with great clarity a very complicated subject, important to us all, but to fill the room with tremendous warmth & humor. It is truly a delightful gift to be in his presence."
—Rhonda Stieglitz
TV producer
Contact us to find out how: leader@theleadersbrain.org